Tales of a Forensic Pathologist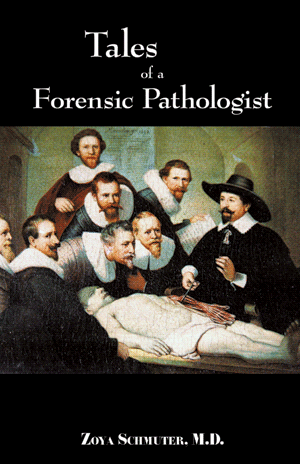 by Zoya Schmuter, M.D.
Description

Over the last 22 years in the New York Office of Chief Medical Examiner, Dr. Schmuter performed thousands of autopsies and testified in courts hundreds of times. Many of these cases present interest for a general reader, especially given the attention to this profession in the last decade in movies, TV shows and fiction books.
The first chapter of this book is dedicated to the evolution of the Office of Chief Medical Examiner over the last 20 years, its transformation to one of the largest and best in the world. This tale is presented throughout the prism of the author's individual experiences and closely intertwined with her professional life. It lays the foundation for the following 25 chapters of challenging cases from the author's personal experience. Many of them include captivating stories of homicide investigation with court testimonies. The truth, however, is that the crime related deaths cover fewer than 15% of all cases performed by medical examiners. This book brings up and creates public awareness of many important issues beyond the traditional topic of homicides, among them drug intoxication death, child negligence and abuse, sudden death of young people, misdiagnosis, prophylactics of sudden infant death.
more details....
back to previous...
---